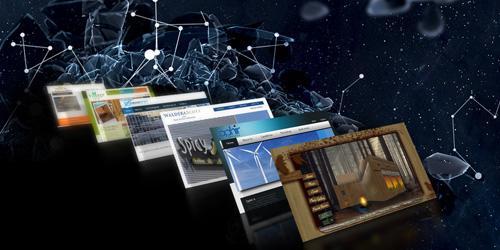 Official Website : https://www.vaishnogsoftwares.com
Higher score means the stronger domain authority that more likely to rank higher in the search engines and lower score means a weaker website that will have trouble ranking for competitive keywords.
To have a successful brand, you need to get your eCommerce site as high up the search engine ranks as possible. Sometimes, though, you don't really know how well your site is actually doing. And even when you think you are doing all the right things, it still isn't as high up in search results as you had hoped.
If you know about the term SEO, then you'll find one term will come up again and again that is DOMAIN AUTHORITY. But what is it? And how important it is? And if it is, how to increase the Domain Authority of Website? This question always keep in your mind about DOMAIN AUTHORITY.
Domain authority is a way of predicting how well a website will rank on search engines. The official term and algorithmic scores were invented by the good folks at Moz.
Domain Authority is an rating of a website like Page Rank And Alexa Rank. It is short termed as DA . Domain authority (DA) refers to the number of relevant backlinks- links to your website from other reputable websites-your site has. The relevance of those backlinks also contributes to your score.
Domain Authority is determined as a logarithmic scale. This means only metrics won't always increase or decrease the score to the same degree. The more important a metric is, the greater effect it's likely to have.
Domain authority score ranked from 1 to 100. With the higher end of the scale representing a better outcome. When you have a great domain authority score, it's more likely you'll see increase in web traffic and SERP rankings.
When you develop a new website, then its domain authority is one. Moz points out sites with many external links are usually higher when it comes to DA, while small business sites and those with fewer inbound links generally have a lower DA score.
A higher score means a stronger website that's more likely to rank higher in the search engines. A lower score means a weaker website that will have trouble ranking for competitive keywords.
Domain Authority can fluctuate over the time, and so many moving parts, identifying why it changed can be challenging. But keep it up, and take the challenge to work on DA.
Raising the Domain Authority is a long-term process, but there are several ways to go about it.
From now I concentrate on Domain Authority because it depends upon Alexa Rank, Google Page Rank and Backlinks to your website. In simple words if you are having high Domain Authority, it means you are having Good Alexa, Page Rank & and Backlinks too.
If you need to know about Google Analytics and Alexa Rank, then read- Google Analytics Vs. Alexa Rank
In other words, DA is nonlinear. Logarithms can be pretty complicated for people who aren't mathematicians. We'll keep it simple and say when it comes to DA, the higher your score, the harder it is to increase it. Moving from a DA of 10-20 is much easier than moving from 70-80.
DA is relatively, based on link and ranking data of other websites. This means that if your DA drops, it may not mean you lost backlinks or did anything wrong, it may just be the result of a big site like Amazon gaining a thousand links and affecting the scale. This also means there's not necessarily a "good" score, there is only better or worse than another site.
Domain authority (DA) looks at the lot of factors, but it primarily takes into account inbound links. The more high-quality inbound links, the higher the DA.
The factors used to calculate a Domain Authority score include the referring root domains and total links pointing to a given website.
Links from other websites are like votes, and the more votes a website receives, the higher that website's DA.
Not all votes are equal. However, the authority of each linking root domain and the number of individual links can help the ranking strength of the site they are linking to accordingly.
There are other SEO tools that also provide the DA for a given site.
Some of the factors that Moz uses to calculate Domain Authority include:
Number of external links to the site
Number of internal links
Trustworthiness of linking sites
Popularity of linking sites
Relevancy of linking sites
Anchor text used to link to the site
Page Authority (PA) is a score developed by Moz that give suggestions on how well a certain page will rank on SERP.
Page authority is based on a logarithmic scale from 0 to 100 and deals with the relevance of information and links within site pages to one another. Those that use the Page Ranking Check service must know that growing the score from 70 to 80 is significantly harder than from 20 to 30. Higher page authority means greater chances of your page showing up on search engines, and that your page will be placed closer to the top of the search results. Note that page authority is related to the pages within sites, not the site itself.
While page authority is holistic and influenced by a range of factors, there are some things you can do to indirectly improve your page authority.
There are some of the popular and most used ways to increase page authority and we are going to discuss these:
Good Page Authority score can be assured by meaningful and fresh content. Try to create relevant and high-quality content that is relevant to your brand or product or service. The better your content it is most likely to be shared by various users and liked also as a result of which many other sites will be linked to your site or page. To make the site popular try to create high quality and relevant content for your web page.
Following are a few tips to create high-quality content:
Create the interesting content
Update and Post the Fresh Content every day
Ensure that the content is relevant and useful
Make sure that the content is easy to read
One of the biggest mistakes that are usually done by business is that they write fluff pieces of content that have no substance. They think that they are creating content only for SEO and can write anything and they have to only fill it with the relevant keywords. So, you must try to create the meaningful content that can attract readers and shared by them as well.
For many reasons, it is important to have the external links. Like if you will put an external link to other website and they post it on their site, then you will get more audience and your brand will get better exposure. As a result of this, you will get more website traffic. To post the content on other high authority websites, you will have to create meaningful and quality content.
Following are the tips for this:
Create High-Quality Content for External Sites
Promote Content through Social Media
Link to other high authority sites through your blog posts
Write Guest Posts
You can create the external links and get many links through these steps.
Believe it or not but images are of much more important and can impact the page quality and authority a lot. Images that are of original content can provide you with many benefits.
Some of them are listed below:
Content becomes readable
Images can be shared and liked easily
Images can improve the SEO
As it may be difficult to read the content or huge amount of text, but images can be shared and read quickly. You can also even break up your content into visuals. Google also appreciate the use of images on a webpage.
However, Google cannot identify the images that are used by you on the web page until you will use the descriptive ALT tag. Moreover, if you are using ALT tag then you should use strong SEO keywords in this ALT tag that can be easily found by Google and more traffic can be generated in this way.
Spammy blog comments with bad links can detrimentally affect page authority.
If you need to know about Google Analytics and Alexa Rank, then read- Google Analytics Vs. Alexa Rank
Pages can be targeted with this black hat SEO technique, in an effort to undermine a page's authority and its ranking in SERPs. Be vigilant and remove these comments to reverse the effect.
Quality link building is always essential for good SEO. Reaching out to companies with a similar focus or mission can help a page build its authority and its perceived legitimacy.
The authority of a link is based on a few factors:
It's no-follow attribute
How many external links there are
Where the link is placed on the page
The page's authority
Bear these factors in mind when generating links in order to maintain and improve your own page authority.
Make sure you keep your pages relevant by regularly updating them with new content, this is a simple way to give your page authority a boost.
Whereas Domain Authority measures the predictive ranking strength of entire domains or subdomains.
Page Authority measures the strength of individual page. The same is true for metrics such as MozRank and MozTrust.
Every site that refers to your page transmits it a certain part of link authority. It can be considered as a kind of vote for quality of your page and the entire website. The more votes you get, the higher search engines will rank your site. So the thing is that both the website and a certain page have their authority levels. They gain it according to similar criteria and to keep the integrity of the website you must know both domain and page authority rates. It can happen, that both these scores can differ significantly.
Online business marketing depends on the implementation of proper tools in search engine optimization. One of the greatest ways to check your site's progress is by knowing your page authority.
There are many SEO and online marketing platforms across the web that have a PA checking tool. The most trustworthy platform for PA and DA checking is Moz. Of course, there are lots of new SEO services that appear every day. It is better to use the one that gives you the most accurate score.
Page Authority is defined the same way as Domain Authority, but only data concerning one specific page is taken into consideration. To count this score, PA checker includes 40+ factors. But, it does not take into consideration such on-page elements like keyword frequency or content quality. Page Authority depends on the quality of page's link profile in the first place. If a good, well-trusted source refers your page, it is a sign of quality content quality for the search engines.
People usually use Page Authority checker to see fluctuations in their score. Because this rate basically depends on the link profile, and changes with your links will affect the PA score.
Domain authority is calculated for the overall domain and its sub-domains, so the page authority is calculated on the individual page. To identify the page authority of a page the data is taken from Mozscape web index and can include link counts, MozTrust scores. MozRank and many other small factors associated with a page. Here to calculate the page rank keyword use and content optimization is not taken into account.
Page authority is also calculated using machine learning just like domain authority and so it may fluctuate as well, since the data that is fed into machine learning algorithms may change from one time to another. So, the user must take the page authority as a relative metric, when they compare it with other pages and the absolute values must not be considered to check it.

Trust Flow is a score Majestic assigns to an URL or domain based on the quality of external links to the site. It takes into consideration the amount of traffic that flows through a link, the relevancy of the linking site, and also the links pointing to the linking site.
It basically measures the trustworthiness of a site based on its links, using the assumption that trustworthy sites generally link out to other trustworthy sites.
If you need to know about Google Analytics and Alexa Rank, then read- Google Analytics Vs. Alexa Rank
Considering Trust Flow, it makes sense that outdated SEO techniques such as building a lot of low-quality spammy links to your site can actually be detrimental, as it will reduce your Trust Flow score.
Trust Flow is also a number between 1 and 100, with 100 being the highest score possible, and is assigned on a logarithmic scale like Domain Authority.
The Trust Flow metric is often used together with Citation Flow, which is another Majestic metric that measures the power of a site based on the number of links. A site with both high Trust Flow and high Citation Flow would generally be considered to be a good quality site and ranked by search engines accordingly.
If new content is to be given a favorable rank by search engines, building domain authority and trust is important. Otherwise, the home page of the site will receive some rankings but new posts will never receive favorable rankings.
Both Domain Authority and Trust Flow can be used to assess the relative "power" of a site. This is useful, not so much to score the current performance of a website we're trying to get on the first page of Google, but rather to identify potentially valuable sources of links.
As you'll have noticed from the description of Domain Authority and Trust Flow, links from external sites are one of the most important factors that search engines use when deciding what order to place sites in on the result pages.
One of the most valuable things we can do as SEO company is to acquire more good-quality links. The main way to assess the quality of sites we can potentially get links from is to use Domain Authority and Trust Flow metrics as a guide to how valuable the links would be.
In practice, both Domain Authority and Trust Flow can be manipulated and we would never rely on solely either to judge the value of a page or site. Domain Authority and Trust Flow are most useful when used together along with other metrics and a large dash of common sense. At VaishnoG Softwares, we use both metrics to evaluate sites.
While, as we've explained, Domain Authority and Trust Flow are just a rough guide to a site's strength and should not be relied on as isolated metrics, there are several reasons why you might want to work on increasing them.
Sites with high Domain Authority and Trust Flow are generally considered to be financially more valuable. If you're thinking about selling your site, you'll be able to get more for it with higher metrics.

Advertisers also look at these figures when deciding how much of their budget to pay for links or banners or sponsored posts on your site, so if you do sell advertising space, it's worth putting some effort into increasing your Trust Flow and DA as much as possible.
In general, the factors that increase your site's Domain Authority and Trust Flow are the same factors that move your site up the search engines. Your focus should be on carrying out these activities and monitoring your search engine listing position and site traffic, not just on increasing a number in website analytics software.
Get more good-quality links
Add more high-quality content to your site
Maintain an active profile on social media and aim for more social shares of your content
Ensure your on-page SEO in terms of site structure and content is strong
Remove bad-quality links using the Google Disavow Tool (bad quality links usually have low Trust Flow)
Communicate and build relationships with other site owners in your industry to encourage natural links
Interlink pages on your site wherever appropriate.
The frequency of links acquisition and domain quality of sites linking to your site are equally important. In case a blog has acquired thousands of links in a couple of days it will be very easy for search engines to realize something is amiss. Spamming is usually penalized by a ban. Also, if the links you receive are from domains considered spammy or involved in a spamming exercise, chances are high your own domain, as innocent as it might be, will be taken as spammy.
Inbound links pointing to a site is one of the factors used by search engines in ascertaining the authority of a specific domain that conveys the site's popularity.
Inbound links are defined as links from other sites that point to your site. They are also known as backlinks, simply because they refer back to your site. For a link to be considered a backlink by search engines, it must be clickable.
An inbound link has 2 parts:
The link to your page
The anchor text to which it is attached
In case a site has many inbound links pointing from some of the highly authoritative sites, it will be considered a high authority website as well through association.If a site has useful information, many sites will link to it. While so many white hat tactics of building links are plenty, what will help in generating superior inbound links is the creation and distribution of quality content frequently.
Guest posts are very important after the Penguin and Panda update and the safest way of building links. You can receive and provide a valuable link for a specific keyword through a guest post. Your page authority is directly proportional to its back-links and you must target a number of popular blogs within your own niche. Simply comment on the blog, share the posts online and once you are noticed, ask if you could post content as a guest on the site.
These are the links that you use within your own site to link to other pages, sections or content.
Internal linking gives your users more content to interact with on your site. It also helps to direct traffic to old published content that is relevant to the more recent or fresh content, giving it a chance to rank better again.
And just like the World Wide Web, your linking structure helps search engines understand the reason for its existing. Everything is connected like a spider web. Without linking, it will be hard to understand what the page is about.
These links make it easier for search engine bots to crawl, index and rank your site. They are able to identify related content, giving your page a relevancy boost.
Internal links help search engines to identify the canonical pages. If there are a number of blog posts talking about a particular topic for example, and they all link from one 'major blog post', search engines identify the latter as the major or canonical and give it a slot in search engine results. Since the canonical link has the bulk of the internal links, the users will still be able to find the rest of the content it links to. This way, content on your page does not 'compete' among itself.
When you have a reasonable number of high-quality backlinks, your site is highly likely to rank higher in search results. This pays-off as you have increased traffic to your site which is highly likely to further result in higher conversions and even increased sales.
A website's size contributes to domain authority. Increasing content pages on a site also increases the chance the pages will attract inbound links. Adding quality content to a website is important and can be done regularly through the incorporation of a blog within the main domain. As you post on the blog, search engine spiders will keep returning to the site to have the newly posted content indexed.
A look on SERP trends will let you know social signals are playing a huge role in the ranking of a site. A good example is being ranked on the five top positions for a competitive mid level keyword through a combination of twitter tweets and Facebook shares. A huge number of authoritative blogs have predicted the fact that social signals will increase in importance in the future.
If you have an old domain let it age by maintaining its registration and continuing with addition of content to it. Traffic will gradually increase over time and it will be viewed favorably than a domain newly bought and yet to earn the trust of Google and other search engines.
If pages on your site are shared a lot, the value will increase. Spend some time doing social bookmarking by using such sites as Reddit, Digg and StumbleUpon among others. Do not forget that to have your content shared you must share the content of other sites as well. Sharing your articles only is a narrow approach on building your site and you will not succeed as you should.


Do not ignore the power of the world's favorite video sharing website. You could upload your content, perhaps tutorials you have created and link them to your site through the portion for describing your link. This will bring more traffic to your site and increase its authority on the web.


Building the authority and trust of your domain is not something that happens overnight. Spend some hours daily on it and you will soon see gradual increase in authority, trust, page rank and web traffic.
There's no data that Google or other search engines use Domain Authority as a ranking factor. Experiments by other companies in the SEO industry such as SEMrush have indicated the authority of individual pages has a substantially higher correlation with rankings than the DA of a site as a whole.
Domain Authority is calculated in part by the number of backlinks pointing to a site's pages. The power caused by backlinks pointing to one page can get passed to another page on the same site by using internal links.
For example, a page that doesn't have any backlinks pointing to it from external websites may be able to rank higher from internal links from other pages on its domain.
You may sometimes hear the term "link juice" used to describe the practice of power given by one page to another through internal or external links. You can find more details about using links strategically here.
There are a number of factors that could cause your Domain Authority to change including:
Lost links
A change to the way Moz calculates Domain Authority
Other sites gaining links (DA is a relative scale)
First of you will have to register a domain here. After that we can work on to increase the Domain Authority.
Not satisfied with your page authority score? We can set you on track to improve it by teaming you up with a group of marketers recommended by us.
Alternatively, we have the professionals for those who want a boost but maybe don't quite have the funds to hire help!
If you need to know about Google Analytics and Alexa Rank, then read- Google Analytics Vs. Alexa Rank
We hope this has cleared up some of the confusion about increasing the domain authority of website and how to increase that. First of all, you will have to register a domain and webhosting of the website after that start working on increasing the domain authority so that website would rank higher.
If you still have any question, feel free to ask me via comments or via email.
Don`t forget to share what you like here on Twitter, Facebook, Instagram with your friends and family.
In this article I think I have explained about increasing the Domain Authority of the website. And VaishnoG Softwares is here to register domain name and website hosting services as your trusted company.
Completing all these steps can take a lot of time and effort, which is why many businesses outsource the tasks to a specialist SEO agency. At VaishnoG Softwares, a Digital Marketing Specialists, we have the skills and experience to increase your search engine position through link building and other digital marketing techniques so you can concentrate on your core business. VaishnoG Softwares is working with you to bring new ideas to life in IT Market.
Get in touch with VaishnoG Softwares by contacting by email at vaishnogsoftwares@yahoo.in, shweta.vaishnogsoftwares@yahoo.com or by phone at 8725018881. For more information, please visit https://www.vaishnogsoftwares.com